Wing – A 1st, 3rd, 5th & 7th Floor
| Flat No. | Type | Carpet | B/up | Terrace | Saleable |
| --- | --- | --- | --- | --- | --- |
| 101,301,501,701 | 1 BHK | 471.00 | 613.00 | 54.00 | 667.00 |
| 102,302,502,702 | 2 BHK | 643.00 | 836.00 | 41.00 | 877.00 |
| 103,303,503,703 | 2 BHK | 675.00 | 878.00 | – | 878.00 |
| 104,304,504,704 | 2 BHK | 675.00 | 878.00 | – | 878.00 |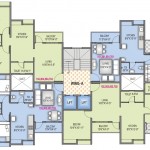 Wing – A 2nd, 4th & 6th Floor
| Flat No. | Type | Carpet | B/up | Terrace | Saleable |
| --- | --- | --- | --- | --- | --- |
| 201,401,601 | 1 BHK | 485.00 | 631.00 | – | 631.00 |
| 202,402,602 | 2 BHK | 658.00 | 855.00 | – | 855.00 |
| 203,403,603 | 2 BHK | 675.00 | 878.00 | – | 878.00 |
| 204,405,604 | 2 BHK | 675.00 | 878.00 | – | 878.00 |
Wing – B 1st, 3rd, 5th & 7th Floor
| Flat No. | Type | Carpet | B/up | Terrace | Saleable |
| --- | --- | --- | --- | --- | --- |
| 101,301,501,701 | 1 BHK | 471.00 | 612.00 | 54.00 | 666.00 |
| 102,302,502,702 | 2 BHK | 642.00 | 835.00 | 41.00 | 876.00 |
| 103,303,503,703 | 1 BHK | 468.00 | 608.00 | 59.00 | 667.00 |
| 104,304,504,704 | 1 BHK | 482.00 | 627.00 | 54.00 | 681.00 |
Wing – B 2nd, 4th & 6th Floor
| Flat No. | Type | Carpet | B/up | Terrace | Saleable |
| --- | --- | --- | --- | --- | --- |
| 201,401,601 | 1 BHK | 485.00 | 631.00 | – | 631.00 |
| 202,402,602 | 2 BHK | 656.00 | 853.00 | – | 853.00 |
| 203,403,603 | 1 BHK | 468.00 | 608.00 | 41.00 | 649.00 |
| 204,404,604 | 1 BHK | 496.00 | 645.00 | – | 645.00 |
Wing – C 1st, 3rd, 5th & 7th Floor
| Flat No. | Type | Carpet | B/up | Terrace | Saleable |
| --- | --- | --- | --- | --- | --- |
| 101,301,501,701 | 1 BHK | 497.00 | 646.00 | – | 646.00 |
| 102,302,502,702 | 2 BHK | 660.00 | 858.00 | – | 858.00 |
| 103,303,503,703 | 2 BHK | 579.00 | 753.00 | – | 753.00 |
| 104,304,504,704 | 1 BHK | 473.00 | 615.00 | 52.00 | 667.00 |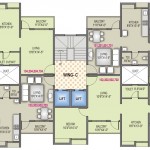 Wing – C 2nd, 4th & 6th Floor
| Flat No. | Type | Carpet | B/up | Terrace | Saleable |
| --- | --- | --- | --- | --- | --- |
| 201,401,601 | 1 BHK | 479.00 | 646.00 | – | 646.00 |
| 202,402,602 | 2 BHK | 660.00 | 858.00 | – | 858.00 |
| 203,403,603 | 2 BHK | 579.00 | 753.00 | – | 753.00 |
| 204,404,604 | 1 BHK | 487.00 | 633.00 | – | 633.00 |
Premium Amenities
Compound wall and attractive main entrance gate.
Watchmen cabin for security guard.
Concrete road with streetlights.
Well developed premises with plantation.
Landscaped Garden.
Children Play park.
Mini Club House.
Adequate parking with decorative flooring.
Solar water heater system.
Automatic water level controller.
Well-decorated entrance lobby.
Adequate common lights in parking, staircase connected to the back-up.
Premium Specifications
Structure: R.C.C. frame strcuture. Brick walls. Attractive elevation.
Flooring: Vitrified double glazed tile-flooring for Living/Passage, Kitchen and Bedrooms.
Kitchen: 2'0″ wide Black Granite kitchen platform, stainless steel sink and 4′ high glazed tiles dado above platform.
Windows: Aluminium coated sliding windows with Mosquito net, and M S. safety grill.
Doors: Decorative main entrance door with brass fittings. Internal water proof flush doors with quality powder coasted fittings.
Toilets/Bath: Colored glazed tiles dado up-to 7′ height
Plumbing: Concealed plumbing with quaility fittings, Hot and Cold mixer unit in all toilets with solar hot water.
Electrical: Concealed copper wiring with TV and Tel. point in living room.
Painting: Semi Acrylic paint on walls and ceilings. Acrylic external paint.
Lift: Lift of Standard with back-up.
Site Contact
Mr. Jadhav: +91-9273357851
Main Office
+91-20-25534478